Russel Brothers Limited OWEN SOUND, ONTARIO Steelcraft Boat Builders
Atomic / Jarrett M.
Canadian List of Shipping 1956: Atomic [C.138147] registered at Amherstburg; built in 1945 at Owen Sound. 75' 9 x 20' 1 x 7'6; 102 g.t.; 50 n.t.; 600 hp. Owned by McQueen Marine Ltd., Amherstburg. Steel diesel tug Atomic [C.138147] registered at Amherstburg; built in 1945 at Owen Sound. 76'; 102 gross tons. Also carried in Canadian List of Shipping 1994. Transport Canada List 2003: Owned by McKeil Work Boats, Hamilton, Ontario. Name changed to Jarrett M. Spring 2007.
One of Russel Bros. most famous boats, Atomic was designed as an ice-breaker. Twice winner ('50 & '51) of the International tug race, she could break up to 30" of ice, keeping shipping channels open for coal carriers between Toledo and Detroit.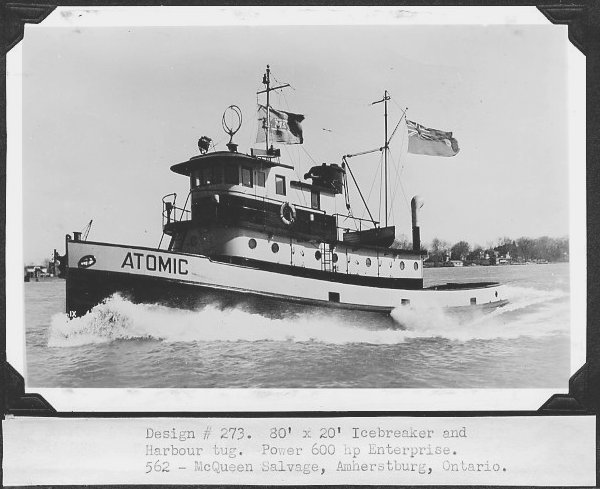 From the Company Brochure
"Steelcraft Powerful Diesel Tugs"
Terry Scott has a large 1946 photo of the Atomic (66 X 46 inches).
Anyone know who the fellas are on the bow deck? (5/18/09).
GAO notes: this is a retouched photo used by McQueen Marine in their advertising.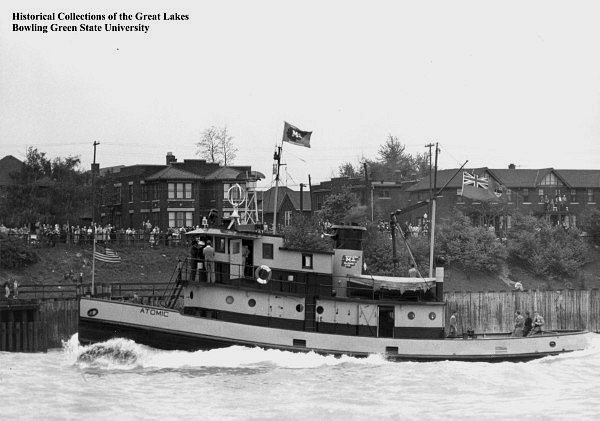 Photo Date: Unknown
Photo and tables below courtesy Great Lakes Vessels Index, Historical Collections of the Great Lakes,
Bowling Green State University
Atomic leading one of the international tug races it won, between the USA and Canada, on the St. Mary's river.
From Russel-Hipwell News, Fall 1951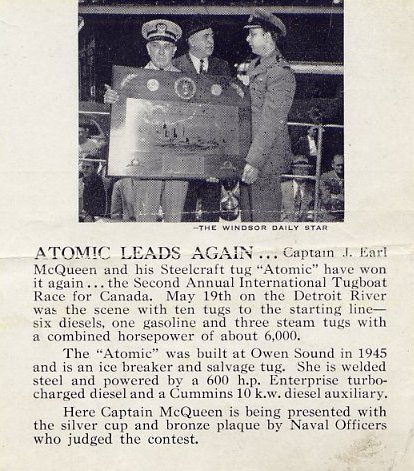 The Atomic from Amherstburg wins the first international tugboat race.
Bylines on back of clipping dated May 22nd, 1951. Newspaper unknown.
From Russel-Hipwell News, Fall 1950
The Atomic from Wallaceburg keeps Thames river open in winter.
Clipping back dated Feb. 25th, 1951. Newspaper unknown (likely from Toronto).
Rod Morrison notes "This is a picture of Captains Mantell, Becker & Morrison (my dad Capt. Angus J. Morrison) taken in the wheelhouse of the Atomic in 1956, I think. They were towing the Greater Detroit and Eastern States out into Lake St Clair to burn. My dad is the one not in uniform. Frank Becker owned Becker Towing in Detroit and Capt. Mantel had been the Captain of the Greater Detroit. "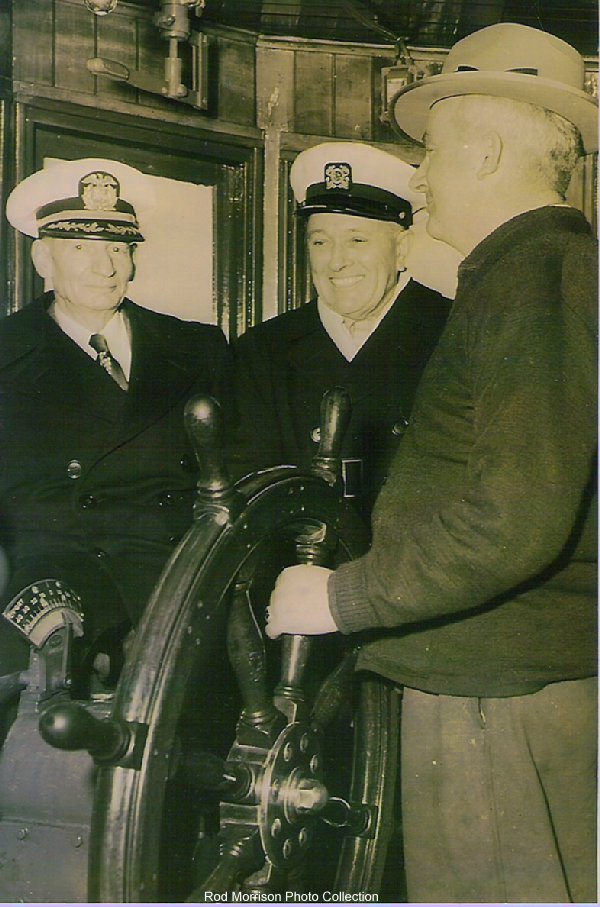 The Russel Brothers built tug, ATOMIC, breaking ice.
source: http://www.hhpl.on.ca/GreatLakes/GLImages/details.asp?ID=1388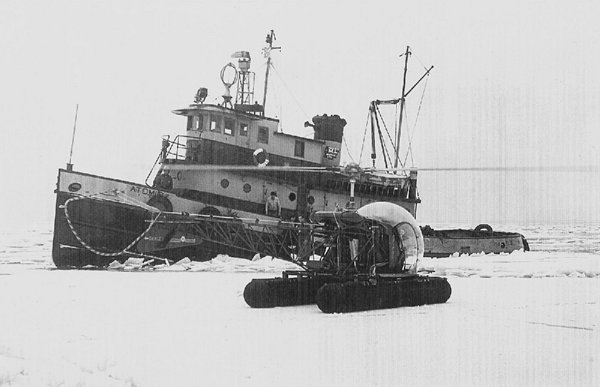 Atomic Aug. 1967, possibly Point Edward, Ont., photo by B. Bluekamp, Rene Beauchamp collection.

Atomic still in service at Toronto, July 29th, 2002.
Ownership Changes
Owner Name
Date
Registry
Official #

McQueen Marine, Ltd.

Amherstburg, Ont. Canada

1945 - 1979
CANADA
138147

Great Lakes Marine Contracting, Ltd.

Port Dover, Ont. Canada

1979
CANADA
138147
From Russel company brochure: STEELCRAFT TOWING.
Gerry Ouderkirk archive.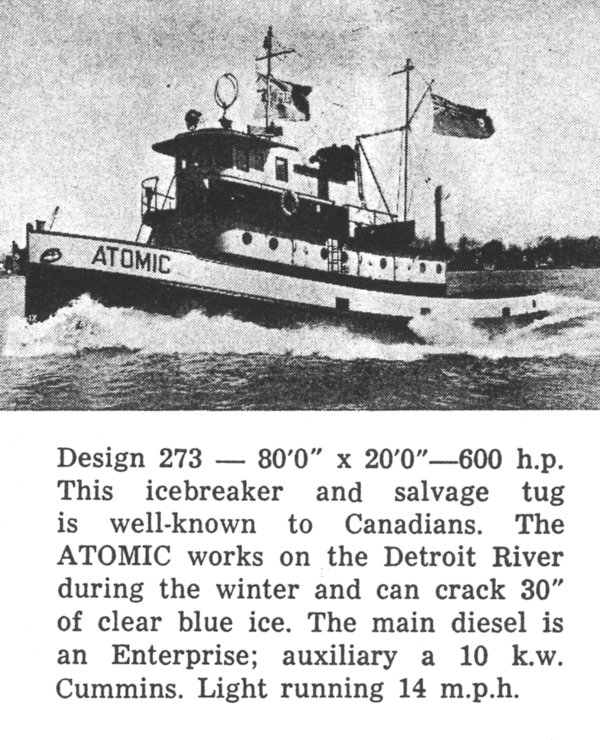 The Rod Morrison Collection
Atomic through the decades. Rod's dad Angus J. Morrison and brother Cliff Morrison were captains of the Atomic. The photos from top to bottom were taken by:
Cliff Morrison (my brother). He is a tug captain who sailed the Atomic and also the tug Amherstburg for McQueen Marine... Burt Johnson (deceased). He was a Windsor Star photographer and he worked at McQueen Marine. He would have taken all or most of the early publiciy pictures that were taken in the 40's and 50's of the Atomic... Rod Morrison... Cliff Morrison... Herb Miller (my late stepfather) taken in the Thames River while breaking ice... Cliff Morrison... Rod Morrison... Rod Morrison... Cliff Morrison... Cliff Morrison... Rod Morrison... Vince Spearing... Les Hudson ?? mechanic at McQueen's... unknown taken by a friend of the family and sent to my mother in 1948... Bill Hoey (I think) owner of Gaelic Tugboat Co.... Rod Morrison... Cliff Morrison... The photo in the wheelhouse was probably taken by B. Johnson as well. Most or all of the early photos in the ice were taken by him. He would get out on the ice and lay down and take the pictures.
Atomic 1946

---

Atomic and Patricia McQueen in Southbaymouth in 1948. The P.McQ had been aground and almost lost on Scotchy shoal at SBM and the Atomic towed her back to Amherstburg for repairs. My dad had been captain on the Patsy and we lived in SBM. We moved to Amherstburg aboard the tugs at that time. I was 14 months old.
600 pixels wide 1024 pixels wide 600 DPI
Atomic in Erieau, Ont., with a bent prop. We had hit something. We pulled her up sternfirst and repaired her. Roller on stern was for pulling anchors for the Nordrill.
Rod Morrison comments: The Nordrill was a converted canaller. She was the Simcoe owned by CSL. Had been self propelled but they got in trouble with her and she ended up being towed. She had an anchoring system that would rotate to keep her nose to the wind. Four sets of anchors. We would set one set in each direction. We would hook on to one anchor and pull it out, then attach a cable from an anchor on the stern of the tug and run out from under it, then attach a can buoy to it and over the side with it. Same for all four anchors. When picking up we would grab the can and bring it aboard and then raise the anchor and pull it over the roller and down the ramp, hook on the next anchor and pull it free of the bottom and they would pull us back to the drillrig. They would lift the anchor off the tug and we headed out again. It was quite a procedure and we had to be very careful with all the cables and the ramp would be muddy from the anchors. We had to keep hosing the mud away. That is sort of a brief description of the way that we did it. Most of the time it was done with 2 of us and the engineer on the tug was always watching us and helped if we needed him.
From McKiel.com April 2007. More McKeil Russels: Glenevis and Progress (ex P.J. Murer).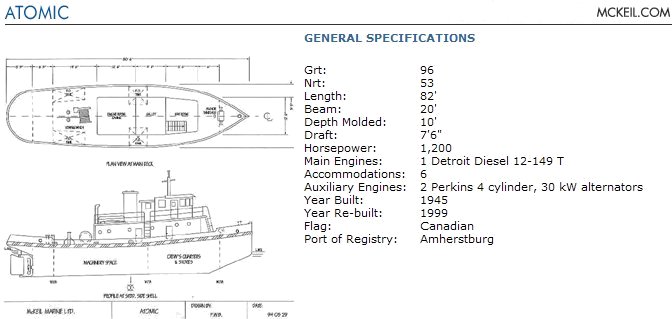 Atomic became Jarrett M. in the spring of 2007. GAO Photo.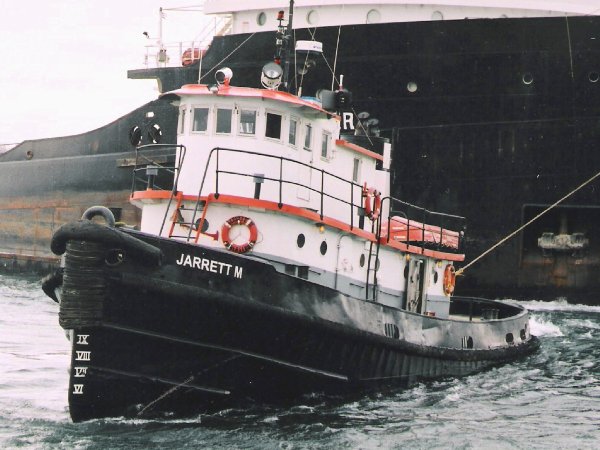 This model of the Atomic was built and photograghed by Jim Turner of Amherstburg, April 2007.
Jim notes: The Atomic was the nicest tug that McQueen had, other than the Amherstburg, which came later. I worked on the Aburg mostly, and occasionally on the Atomic. My friend Gary Lacey and I decided to build the Atomic after we had started to make a Glen Class tug. While we where in the throws of making the hull he asked me if we should be making the Atomic instead of the Glenevis. He thought we had more of an attachment to the Atomic. My Dad used to chum with Capt. Angus Morrison and rode on the Atomic at the races and other events. The most important thing that I remembeer about the Atomic was that when we were out there working, we had the best food, prepared by the best cooks ever. We couldn't have built this tug without the help of Rod and Cliff Morrison who sent us plans and drawings. We followed them meticulously and it turned out pretty well fo a scatch built, first model.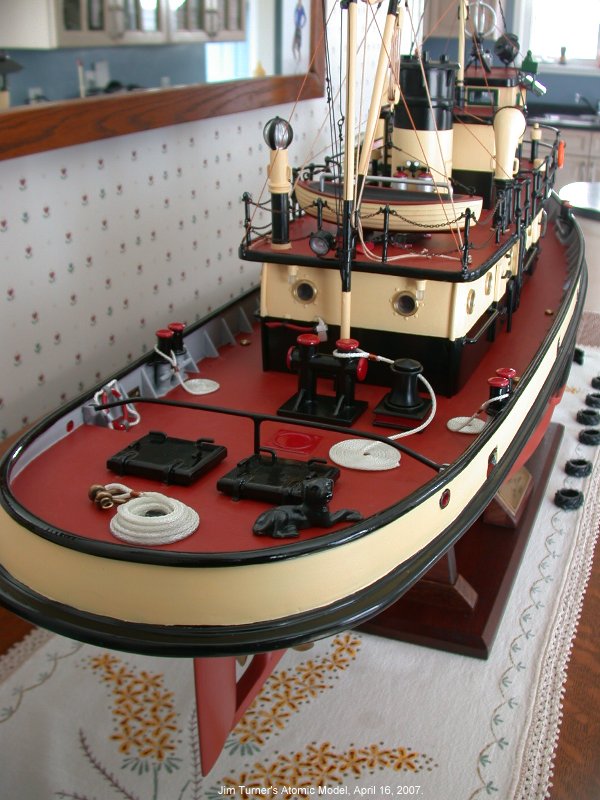 Wyatt M & Jarrett M wintering at Toronto, Jan. 23, 2008.
Gerry Ouderkirk (boatnerd.com).

Jan. 3rd, 2009 Michel Tremblay of Gaspé sends these 4 photos of Jarrett M (ex ATOMIC). He says "ATOMIC (now known as JARRETT M) made an emergency call in Gaspé Dec. 30, 2008 to complete repairs made after an incident in Matane harbour, and also after a general black-out in the Honguedo Strait were they lost all power and also the anchors and chain. She was waiting for good weather for the trip to the Magdalen Islands to escort bulk carrier traffic from the Grosses Iles salt mines. Atomic archive page

Dec. 22, 2009 Terry Scott writes: "Hitch to Sorel at the spur of the moment, Capt. Dave
Seymour on the Florence, Kevin Morrison on the Jarrett (ex-Atomic)."

Carl Burkett notes (April 24, 2017): "The photo below was taken by Shaun Judge when the JARRET M was the stern tug for the AMERICAN FORTITUDE scrap-tow in December 2014. For more on that see Carl's blog: http://carlzboats.blogspot.ca/2014/12/scrap-tow-american-fortitude.html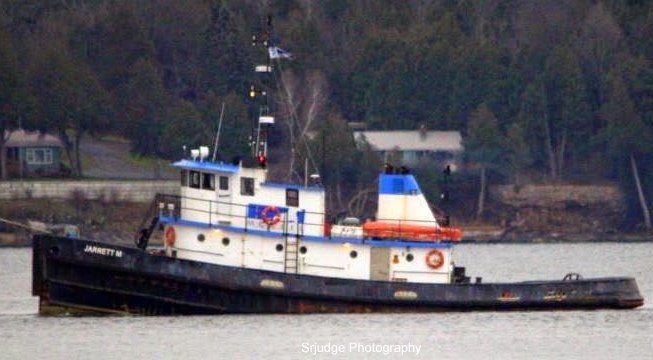 Kent Simpson notes (April 24, 2017): Jarrett M. was updated to McKeil's blue and white paint scheme while it was stationed in Newfoundland for a few years. It was brought back to Nadro colours after coming back on the lakes 3 years ago for dry docking. The Wyatt M is still in the blue and white paint of McKeil's and is still stationed in Bay Roberts Newfoundland.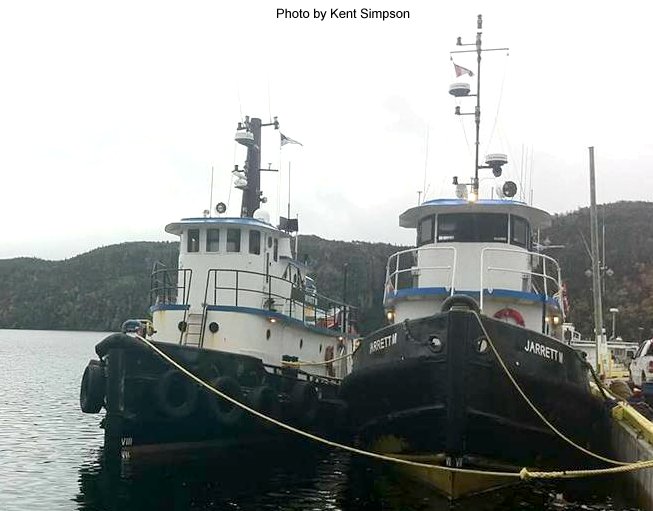 This is a picture from the day I left Newfoundland to bring the Jarrett M back to Hamilton. Wyatt M (ex P.J. Murer) alongside.
Jarrett M in Montreal, Apr. 23, 2017. Photos by Kent Simpson.
"Dead ship" tow of the ferry Camielle Marcoux to Port Colborne Ont.
Click to enlarge.


Jarrett M. April 24, 2017, in the St.Lawrence Seaway assisting another tug towing the ferry LE MARC, ex CAMILLE MARCOUX, bound for Port Colborne from Quebec City. Photos by René Beauchamp. Click to enlarge to 2048 pixels wide.


For more Russel exhibits visit Owen Sound Marine & Rail Museum 1165 1st Ave West, Owen Sound, ON N4K 4K8
(519) 371-3333

http://marinerail.com